=-=-=-=-=-=-=-=-=-=-=-=-=-=-=-=-=-=-=-=-=-=-=-=-=-=-=-=-=-=-=-=-
[ Home | About Myself | Car Addiction | Projects | Personal | Welding ]

 __   ___ ___       __       __    __     
|__| |   Y   .---.-|  .-----|__.--|  |    
|  | |.  |  /|  _  |  |  -__|  |  _  |    
|__| |.  _  \|___._|__|_____|__|_____|    
     |:  |   \                            
     |::.| .  )  A kaleidoscope simulation
     `--- ---'                 Version 2.0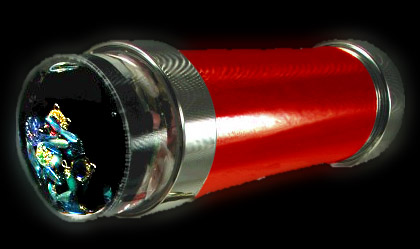 [ Introduction | Latest News | Download | Screenshots ]




Introduction


iKaleid is a simulation of a kaleidoscope to run on Mac OS X as screen saver. It tries to be as realistic as possible and will produce an endless array of patterns and colours. OpenGL is used for the rendering.

iKaleid will run on Mac OS X 10.4 or higher on an Intel based Macintosh.
---
Latest News (Most recent first)
6th October, 2009
Bad news:
My laptop got stolen and I lost the source for many of the more recent improvements to iKaleid.

Good news:
I'll be reimplementing those changes and some new features in time for Christmas:

Viscous oils plugin
Shimmering neon lights plugin
64-bit SnowLeopard support

26th December, 2008
Released Version 2.0 of iKaleid:

Updated to work on Intel Macintosh
Added high quality anti-aliasing
Added new "Viscous Oils" pattern generator. Uses custom GPU fragment shading pipeline.

16th August, 2005
At last, after far too long, I have this ready and packaged. Please download, and enjoy!
11th November, 2003
I've just put up this page about my kaleidoscope software. I actually wrote it about a month ago, but I'm now putting on the finishing touches to it, such as preferences, like ability to change the configuration of the mirrors, etc. It can run as a screensaver, or as a normal windowed application.
---



Download


I decided to release iKaleid as free software. I want as many people as possible to share in how enjoyable it is to watch.

Please share iKaleid with your friends.

No guarantees are provided with this software at all. iKaleid is copyright James A. McCombe.



Download Now


---
Screenshots
These do it no justice - you really need to see it move.


| | |
| --- | --- |
| | New "Viscous Oils" pattern generator |
| New "Viscous Oils" pattern generator | |
| | Three mirrors in equilateral triangle, zoomed in |
| Same as above, the patterns have changed | |
| | Three mirrors in equilateral triangle, zoomed out. Due to the slight misalignment of the mirrors in a kaleidoscope, you can see the pattern deviates slightly the more reflections it goes through. Also, the intensity falls off as the light looses energy. |
| Same as above, the patterns have changed | |
| | Two mirror kaleidoscope, with mirrors at 15 degree angle. |
| Two mirror kaleidoscope, with mirrors at 30 degree angle. | |
| | Same as above, the patterns have changed |
=-=-=-=-=-=-=-=-=-=-=-=-=-=-=-=-=-=-=-=-=-=-=-=-=-=-=-=-=-=-=-=-
Last Modified: Wednesday, 07-Oct-2009 19:04:15 UTC
Email: james "at" jamesmccombe "dot" com